Registrations will be ONLINE again this year!
Online registration opens March 1, 2023
Race entries may be limited this year, so enter early to secure your race position.
Scoring will utilize the MotoTally system.
All racers must bring helmets to registration check-in for installation of new transponder or reuse of your existing MotoTally transponders.

Race numbers will be randomly drawn, based on day of online registration (not time of day).

Early entry racer numbers will be published on the vcgp.com website by 4/10/2023.

Early entry racers will pick up their entry package, including adhesive race numbers, when checking in during the race weekend's onsite registration.

For racers wishing enter as a group, you MUST enter together in a single transaction to be placed on the line together. We will split Sat/Sun racers from the group entry as needed.

Please monitor vcgp.com or our social media channels for all race updates.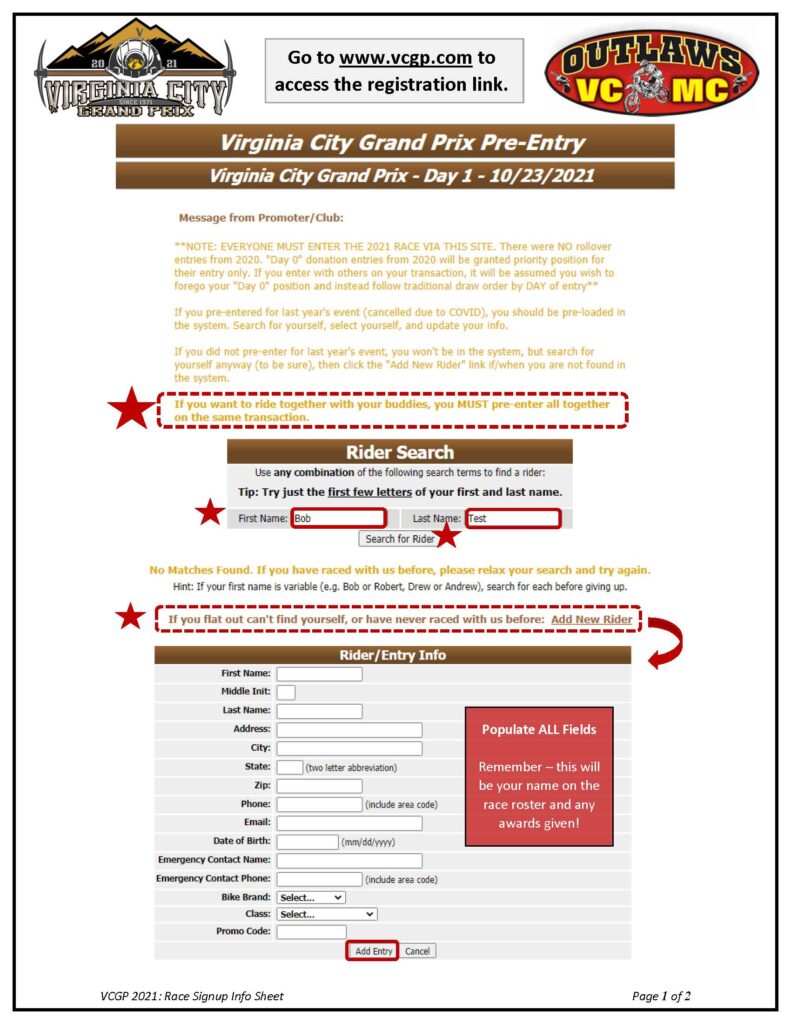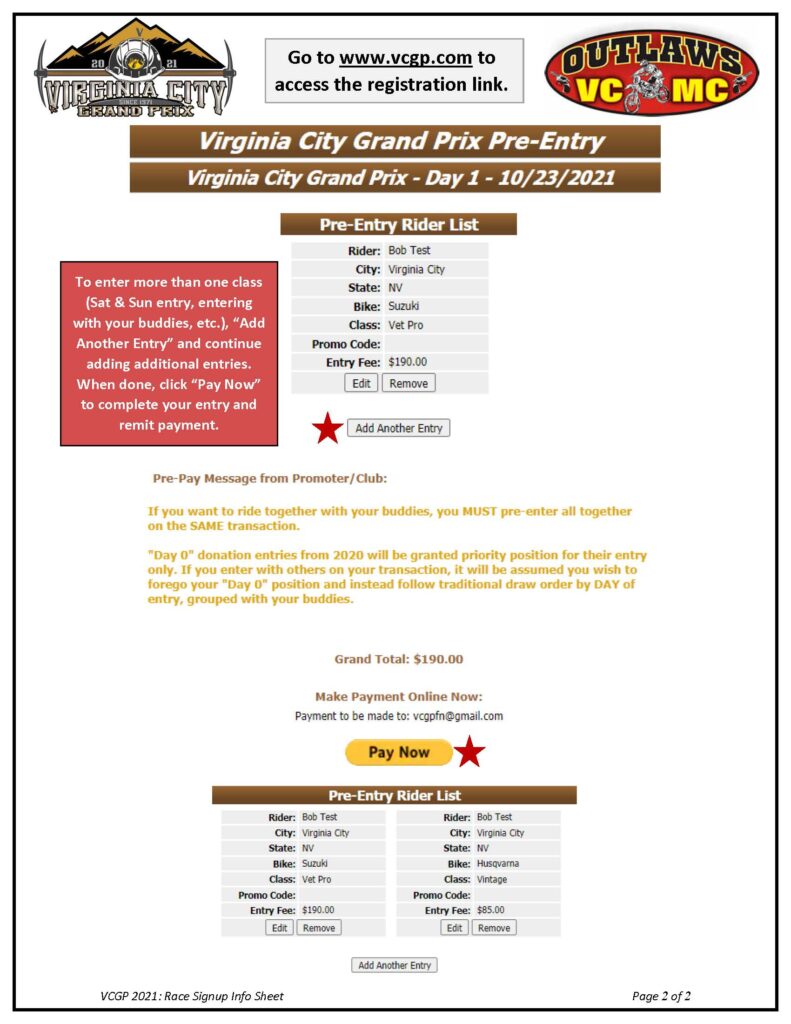 All Pro Classes
$190 Early-Entry – $200 Onsite
All Non-Pro Classes
$90 Early-Entry – $100 Onsite
Moto Mouth Mini Grand Prix
$40 Early-Entry – $50 Onsite
Check-in & Onsite Registration
during race weekend in Virginia City
Friday 4/28/23 12:00 – 6:00 PM – Silverland*
Saturday 4/29/23 – 7:00 – 9:00 AM – Silverland*
Sunday 4/30/23  – 7:00 – 9:00 AM – Silverland*
* Onsite registration location and time subject to change.
Adhesive race numbers and color backgrounds will be provided with every registration.
Modifying Existing Registration
Transfer registration to a different racer: Fee of $25.
Original start number is retired; replacement racer is assigned next available start number (i.e. back of the pack). Registered racer changing class: Fee of $20.
If new class on same race day, original start number is retained, when possible.
If new class is on the other race day, original start number is retired and racer is assigned next available start number (i.e. back of the pack).
No Refund of Registration Fees will be provided (unless race were to be canceled, but that's not going to happen!!!).
10:00 AM Race Start; 9:30 AM mandatory Rider's Meeting
Open Pro Vet: Any Racer (35+)
10:00 AM Race Start; 9:30 AM mandatory Rider's Meeting
10:00 AM Race Start; 9:30 AM mandatory Rider's Meeting
Expert/A: Division: 125cc, 250cc, Open; Age 30+ / 40+ / 50+ / 60+
Women-A: Expert/A level female racer
Amateur/B: Division: 125cc, 250cc, Open; Age 30+ / 40+ / 50+
Dual Sport-A/B:
Single-cylinder purpose-built bike of min 650cc
Expert/A and Amateur/B level racer
Warrior A/B: 
Any U.S. Military Veterans
Moto Mouth Mini Grand Prix
4:00 PM Race Start. Storey County Fair Grounds (F Street) 
Pee-Wee Division: 51cc max, 2 or 4 Stroke
Age 4 – 6 years old
Age 7 – 9 years old

Mini-Mini Division: 51cc – 65cc 2 stroke / 51cc – 110cc 4 stroke
Age 7 – 12 years old
Expert / A
Amateur / B
Novice / C
Full Loop (20 to 27 miles):
10:00 AM Race Start; 9:30 AM mandatory Rider's Meeting
Novice/C: Division: 125cc, 250cc, Open; Age 30+ / 40+ / 50+
Bomber: 1975 to 1984 bikes (No Pro or Expert racers)
Evo: 1985 to 1995 bikes (No Pro or Expert racers)
Women-B/C: Amateur/B or Novice/C female racer
Masters: Any racer age 60 to 69 *Note* 60+ Expert riders now race Saturday
Ultra Masters: Any racer age 70 or older
Warrior C: Any U.S. Military Veterans
Sunday Red Loop (8 to 15 miles):
10:00 AM Race Start; 9:30 AM mandatory Rider's Meeting
Vintage: 1974 and older bikes
Adventure: Multi-cylinder purpose-built "adventure" bike
Diva: Female racer in self-described "beginner" status
Dual Sport-C: Single-cylinder purpose-built bike, min 650cc – Novice/C level racer
Electric:
Battery powered full-size motorcycle
Scored on first 3-laps, but feel free to keep on racing as long as batteries allow